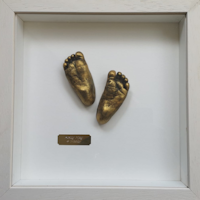 3D Casting
The Process
A solution of water & powder(seaweed extract) is mixed to produce the moulding material. This product is widely used by dentists to create dental moulds and is perfectly safe to use on skin. The foot or hand is immersed in the solution to create a detailed mould - this takes approximately 2 minutes to set. The mould sets to a latex like finish,so the hand or foot is easily removed. A plaster casting is then created to produce an exact replica of the hand or foot which highlights all those unique lines & creases.
Finishing & Framing
The 3D Casts are finished with either a Gold, Silver, Bronze or Copper Patina which accentuates the individual lines and creases which are unique to every hand or foot. Each set of 3D Casts is professionally mounted in a choice of 3 bespoke wooden frame styles - Whitewash, Black, or Natural Wood.
Prices
The prices below display the most popular combinations.

If you would like a quote for a specific combination of hands/feet, please contact me.

A photo can be added to your frame - this will cost approximately €20/€25 and will be quoted at time of booking.


Set of Casts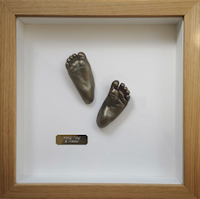 €115
---
'Love' Frame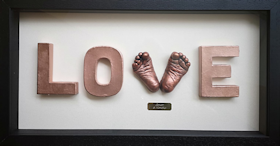 €145
---
Prices applicable up to 12 months

Please contact for a quote for older children

Sibling sets available from €175

Please contact for quotes & suggestions

* A surcharge applies to larger/adult hands/feet due to increased material and framing costs

Discounts are available for group bookings - enquire for details
Gift Vouchers Available.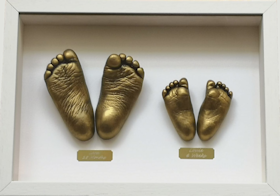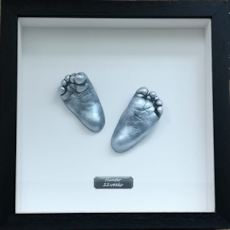 About

Since the closure of his Letterkenny studio in 2015, Mícheál has concentrated solely on creating Ceramic Imprints of hands and feet.

In 2018, he broadened the product range to include 3D Castings and 2D Outprints - lasting keepsakes to be treasured forever.

He provides the service from his home studio in Letterkenny. Home or group bookings can be arranged for those living further afield.
Colours & Frames
3D Castings
There is a choice of Gold, Silver, Bronze and Copper to choose from.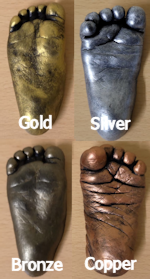 Each 3D Castings set is professionally mounted in a bespoke wooden frame - there are 3 styles to choose from : Whitewash, Black and Natural Wood.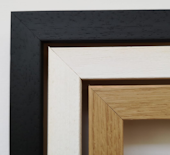 Completion Time
3D Castings are crafted by hand from start to finish, so completion time is usually approximately 5 weeks.



Final product is amazing and the attention to detail is second to none. Couldn't recommend this service enough. Absolute pleasure to deal with!!
Aaron

This has been my second visit with Micheal, and yet again just delighted with our prints. Even with a very reluctant wee man to deal with, Micheal still managed to get the job done. Thanks so much for your patience Micheal it was much appreciated and just soo happy with the result.
Siobhan

Absolutely love the finished frame. Great keepsake in years to come. Thanks to Micheal for a very professional and accommodating service.
Josephine

Collected my imprints today of my 5 children. Wow, they are beautiful. Such high quality, I am delighted. Would highly recommend Michael, such a talent and lovely to deal with.
Louise

Got my two girls hands done, I was so impressed, they are just beautiful would highly recommend kil'n Time
Claire

I collected my kids handprints today and I absolutely love them. They are beautifully displayed in a lovely frame. Would definitely recommend getting them done, just wish I did it sooner. Thanks again.
Susan

Hand prints ready today and they are amazing. Thanks again Michael!!
Marty


Testimonials posted on Facebook
Eco Friendly

Non-toxic Paints


Lead Free Paints


Washable